Films
Dear Criminals – TRAPPED IN A LULLABY [LAST SCREENING]
Director(s)

Khoa Lê

Country

Canada (Québec)

Year

2021

Duration

86 minutes

Format

DCP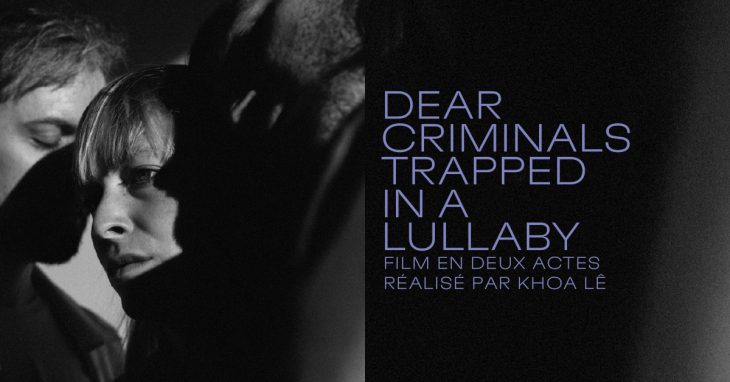 A two-act film directed by Khoa Lê
Created at the Agora de la danse in March 2021, the two-act show by Dear Criminals TRAPPED IN A LULLABY is one of those creations that will never experience the exchange and communion with the audience. Born from a desire to explore different contexts of listening and to observe how it allows songs to settle differently in each of us, this show transported the audience in contrasting universes (staged by Jérémie Niel and Félix-Antoine Boutin) in which the audience's role shifted completely from voyeur to participant. Adapted magnificently to the screen by the director Khoa Lê, the diptych serves both as an archive of research and creation work aborted by the constraints of an uncertain era and as a delicate and unique cinematographic object.
Distance, loss of bearings, the sacred aspect of touch, of a kiss, of looks and sounds: this musical film marks time and serves as a witness for this strange context in which living art and musical performances have sought to express themselves, emerge, exist and regain their rights for 2 years.
Among the team of valuable collaborators, choreographer Catherine Gaudet and dancers Francis Ducharme and Riley Sims, director of photography Mathieu Laverdière, Danny Taillon, Guillaume Langlois, sound engineer Benoit Bouchard and editor Zoé Guèvremont.
Director(s)

Khoa Lê

Country

Canada (Québec)

Year

2021

Duration

86 minutes

Format

DCP