Café-Bar & Terrace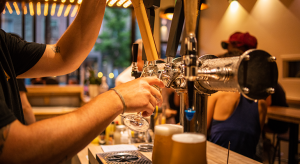 BEER, WINE & COFFEE
Come have a drink at the café-bar Moderne and discover our selection of wine, beer, coffee and kombucha! 

It is now permitted to drink and eat our products offered in our café-bar in all of our spaces indoors and outdoors which include: the projection room, the café-bar, and the terrasse! 



Note that you can also reserve the Café Bar, for more information, visit our rental page or write to location@cinemamoderne.com See you soon!