Films
Vidéo club – Focus on Nelson Henricks
Director(s)

Nelson Henricks

Country

Canada

Duration

63 minutes

Language

Multiple

Subtitles

Multiple

Format

DCP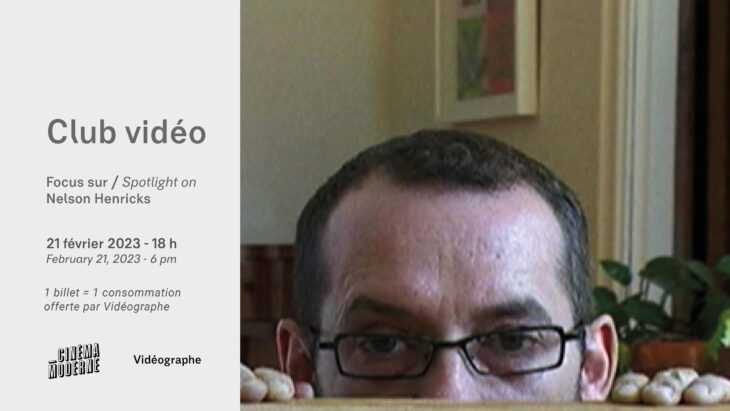 In collaboration with Vidéographe, Cinéma Moderne presents a program of short films by Nelson Henricks, who will be on site to present his work and answer questions from the public.
The program offers a retrospective look at the artist's practice, which is characterized by his rhythmic (de)composition of forms and colors. His works pose essential questions, often with a touch of humor, about human behavior and thus present an ideal opportunity for discussion.
The screening will conclude with a convivial gathering where the public can enjoy a drink offered by Vidéographe.
Screening schedule:
Échec, 2007, 7 min – FRENCH (English sub.)
Crush, 1997, 12 mins – FRENCH (English sub.)
Les sirènes, 2008, 16 min 20 s – FRENCH (English sub.)
Comédie, 1994, 7 min – FRENCH (English sub.)
Untitled (Score), 2007, 7 min – ENGLISH (French sub.)
Satellite (of Love), 2004, 14 min 15 s – ENGLISH (French sub.)
Director(s)

Nelson Henricks

Country

Canada

Duration

63 minutes

Language

Multiple

Subtitles

Multiple

Format

DCP