Films
Niagara + launching of ESCHATOLOGIE (l'effondrement)
Director(s)

Guillaume Lambert

Country

Canada (Québec)

Year

2022

Duration

106 minutes

Language

French

Format

DCP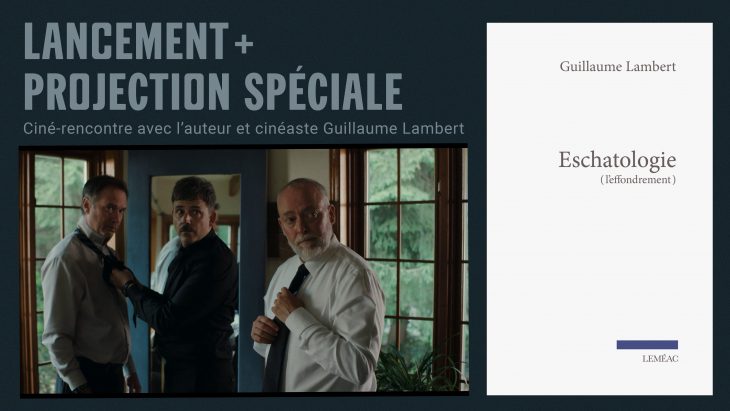 Special screening on October 18, with filmmaker Guillaume Lambert in attendance for the launch of his new novel ESCHATOLOGIE (L'EFFONDREMENT)
PRICE INCLUDES A TICKET FOR THE FILM, A COPY OF THE BOOK AND A DRINK AT THE BAR!
NIAGARA: Three brothers in their fifties will have to reconnect on the death of their father, who died prematurely from an unfortunate Ice Bucket Challenge.
ESCHATOLOGIE: Désabusé, narcissique, fragile et tourmenté, le narrateur d'«Eschatologie » semble planer au-dessus de la vie : il regarde tout de haut. Ce misanthrope qui voyage en première classe là où le travail le mène collectionne les aventures sans lendemain. Quand il se retrouve, comme tous les autres, confiné chez lui, il est convaincu d'assister à la fin d'un monde, à la fin de son monde. Avec son humour grinçant et son regard extralucide, Guillaume Lambert trace le portrait d'une époque de cruels paradoxes et de grande solitude.
Director(s)

Guillaume Lambert

Country

Canada (Québec)

Year

2022

Duration

106 minutes

Language

French

Format

DCP