Films
FIFEQ – Huahua's Dazzling World and its Myriad Temptations
Director(s)

Daphne XU

Country

Canada
United States

Year

2022

Duration

82 minutes

Language

Mandarin

Subtitles

English

Format

DCP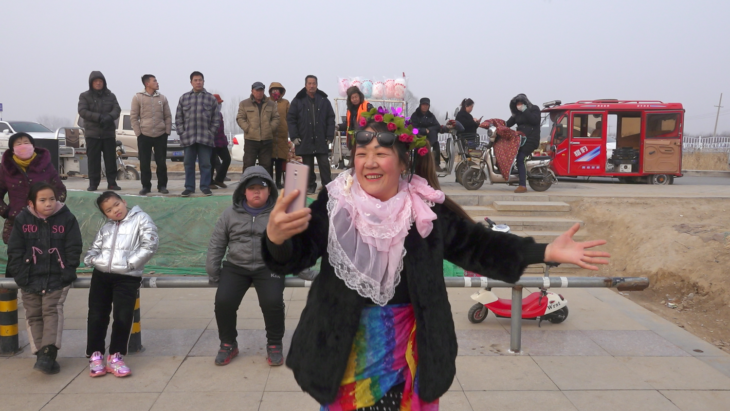 For the opening of its 19th edition, FIFEQ-Montreal invites you to Cinéma Moderne, at 6:30 pm, for a cinematographic reflection on being human in the 21st century and in the digital era. How to be human in this world mediated by digital technologies? What possibilities do these technologies offer, and what do they conceal? Two films that are deeply human, and irrevocably contemporary.
Huahua's Dazzling World and its Myriad Temptations
Directed by Daphne XU and produced by the Sensory Ethnography Lab
China, Canada 2022 – 83 min – VOSTA
Huahua, an eccentric and exuberant woman from Xiongan New Area, livestreams herself dancing, singing, and chatting with fans on Kuaishou for a living. Cellphone screens, beauty filters, and digital soundscapes reveal a world that Huahua creates with her own image.
Ann Arbor Film Festival (2023)
Festival Cinéma du Réel (2022)
Festival international du film indépendant de Bordeaux (2022)
The film will be preceded by the short film
Inuktitut Languages In 21st Century directed by Ulivia Uviluk, a production of
Wapikoni Mobile
Inuktitut Languages In 21st Century
Ulivia Uviluk – Canada 2020 – 9 min – VOSTA
Ulivia explores what is accessible via the Internet in terms of Inuktitut, a complex language that includes several dialects and which varies from one generation to another. Inuktitut is threatened by dominant languages, are there solutions for technologies being allies and not enemies?

Selected at REGARD (Québec, Canada) for the Jury Prize, the Best Documentary Short Film Award, the Public Award and the International FIPRESCI Critic's Award
All FIFEQ projections are free during the week of the festival, except the opening night!
The ticket for this screening includes the entrance fee for the opening night at Ursa mtl.
_________
After the screening, the festivities will continue at Ursa mtl – proud partner of this new edition.
This beautiful and welcoming space will be our headquarters from May 4 to 11.
On the program:
A meal with Lebanese flavors cooked with love by Trip de Bouffe: vegetarian and vegan options will be offered to the public
Artistic performances: two dance shows by Rena Eyamie and Laura Borello-Bellemare
DJ Set by WASA BIBI to dance on House sounds until midnight! 
_________
QUESTIONS : ethnographik@gmail.com
FIFEQ 2023 – May 4 to 11: fifeq.ca/montreal 
For more info : 
Website | Facebook | Instagram
The FIFEQ-MTL, the only festival dedicated to ethnographic cinema in Canada, brings together several hundred spectators each year around two common passions: visual anthropology and documentary film. Thanks to spaces for discussion and exchange between the public, filmmakers, researchers in human sciences and experts, we are democratizing this cinematographic genre to the public. The festival is also a privileged space to discuss contemporary issues or experiences of capturing and representing reality.
Director(s)

Daphne XU

Country

Canada
United States

Year

2022

Duration

82 minutes

Language

Mandarin

Subtitles

English

Format

DCP